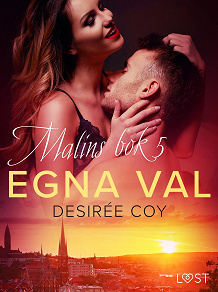 Egna val - Malins bok 5
Malin bestämmer sig för att fortsätta njuta av sitt fria singelliv och avslutar därför affären med Kim. Samtidigt ska väninnan Caroline separera från sin man och flytta till Göteborg. Äntligen är alla väninnor samlade i samma stad!

Malin unnar sig både goda viner och lyxiga spabehandlingar, och på Hagabadet stöter hon ihop med en av de anställda från hotellet på Kanarieöarna. Han känner igen henne och hon bjuder spontant hem honom på mildag. Det blir början på ett nytt kapitel i Malins liv.



Desirée Coy är en pseudonym för en etablerad författarinna från Västsverige. Desirée skriver lustfylld läsning för kvinnan mitt i livet. Berättelser om vänskap, längtan, nyväckt lust, osäkerhet, förbjuden åtrå och lyckliga slut.


Delen om Caroline i serien Bokklubben Basic Instinct innehåller en mörkare spin på klassisk chick-lit och skildrar en mogen kvinnas krokiga väg genom äktenskap, hemligheter och att försöka hitta sig själv. Serien tillhör genren erotisk romance och kan bäst beskrivas som en modern Sex and the City.
---