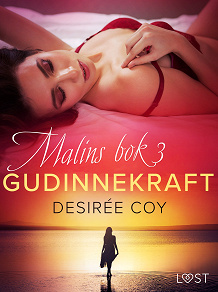 Gudinnekraft - Malins bok 3
Övningarna med Aylin fortsätter. Malin och hon ses varje kväll, och det första Aylin gör är att ge Malin en ögonbindel och ett par hörlurar med vågornas brus. Målet med övningarna är att Malin ska återupptäcka sitt heliga tempel. En kväll använder de dans och musik som metod, en annan får de besök av två muskulösa män. Dagtid njuter Malin av långa promenader och goda sallader. Hon vill aldrig att semestern ska ta slut.



Desirée Coy är en pseudonym för en etablerad författarinna från Västsverige. Desirée skriver lustfylld läsning för kvinnan mitt i livet. Berättelser om vänskap, längtan, nyväckt lust, osäkerhet, förbjuden åtrå och lyckliga slut.


Delen om Malin i serien Bokklubben Basic Instinct skildrar en mogen kvinnas krokiga väg genom äktenskap, hemligheter och att försöka hitta sig själv. Serien tillhör genren erotisk romance och kan bäst beskrivas som en modern Sex and the City.
---