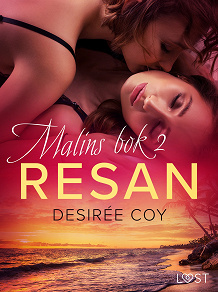 Resan - Malins bok 2
Efter Gustavs bortgång försöker Malin hitta tillbaka till sig själv. Hon åker på solsemester till Kanarieöarna, ensam, uppmuntrad av sina barn. Det är ett lyxigt spahotell, och där träffar hon Aylin, kvinnan som erbjuder Malin att vara försökskanin i framtagandet av ett njutningspaket. Hon tackar ja, och får nya överraskningar varje dag. En manlig anställd verkar också vara inblandad. Den så länge bortglömda sensualiteten väcks återigen till liv inuti Malins hungriga kropp.




Desirée Coy är en pseudonym för en etablerad författarinna från Västsverige. Desirée skriver lustfylld läsning för kvinnan mitt i livet. Berättelser om vänskap, längtan, nyväckt lust, osäkerhet, förbjuden åtrå och lyckliga slut.


Delen om Malin i serien Bokklubben Basic Instinct skildrar en mogen kvinnas krokiga väg genom äktenskap, hemligheter och att försöka hitta sig själv. Serien tillhör genren erotisk romance och kan bäst beskrivas som en modern Sex and the City.
---