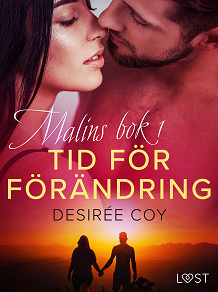 Tid för förändring - Malins bok 1
Malin har levt ett helt liv med Gustav. Sedan barnen flyttade ut har deras passion svalnat men Malin vill ändå tro att det finns någon slags grundkärlek kvar. När Gustav åker till fjällen glömmer han telefonen hemma, och Malin och hennes väninna Julia upptäcker sms från en okänd älskarinna. Hela Malins värld faller samman på några sekunder, och som om det inte vore nog knackar polisen på dörren samma kväll. Har det hänt deras barn något? Eller gäller det Gustav?



Desirée Coy är en pseudonym för en etablerad författarinna från Västsverige. Desirée skriver lustfylld läsning för kvinnan mitt i livet. Berättelser om vänskap, längtan, nyväckt lust, osäkerhet, förbjuden åtrå och lyckliga slut.


Delen om Malin i serien Bokklubben Basic Instinct skildrar en mogen kvinnas krokiga väg genom äktenskap, hemligheter och att försöka hitta sig själv. Serien tillhör genren erotisk romance och kan bäst beskrivas som en modern Sex and the City.
---