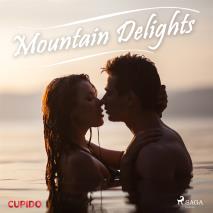 Isbn:
978-87-2637-707-1
Publisher:
Cupido
Category:
Romance
Accessible since:
January 2020
Narrator:
Julie Able
Length: 43 minutes
---
Mountain Delights
There's nothing like the fresh mountain air, waves crashing against the beach, the wind caressing your breast, the feeling of water against your sex...
This is a collection of erotic short stories from Cupido. The collection contains following short stories:
"When she comes back, a young man has lain his beach towel close to hers." - A Wonderful Morning by Lotte Ringkøbing
"She had let the dog off the lead and was walking along the path with the leather lead swinging in her hand." - A Walk in the Mountains by AN
"Enjoy the walk, and the nice weather," said the tour leader. "And that lovely, tight little bum I've just noticed," she said to herself." - Mountain Delights by Silkepus
"She was a shy little girl, lying on her stomach and hoping he wouldn't notice that this was her first time on a nudist beach." - A Trip to the Nudist Beach by AKS
"She was wearing little white lacy underwear which had slid up into her flower." - Sun Beach by R. Carol


CUPIDO – the magazine for intimate, horny pleasure – has been publishing erotic fiction based on readers' everyday fantasies and sexual experiences since 1984.
Listen to sample
---