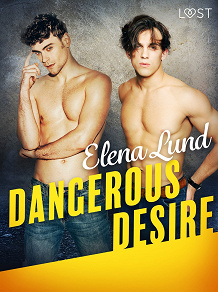 Isbn:
978-87-2631-130-3
Publisher:
LUST
Category:
Short stories
Romance
Accessible since:
December 2019
---
Dangerous Desire - Erotic Short Story
Ludvig is in awe the first time he sees Max leaning against a wall at a party, and he can't think about anything else... Max with his icy blue eyes, with his wolf-like looks. Max with his reckless driving. Max who goes down on him against a concrete wall outside. But Max's wild side and the desire Ludvig feels for him is not without danger. Max is the beginning of a new way of being for Ludvig. More pleasure, less denial.

Dangerous Desire is the first installment of the series about Ludvig and Max.

Elena Lund is a pseudonym for a Swedish erotica author who wants her stories to challenge our preconceived ideas of desire and lust, norms and standards. She writes erotica that places the reader in new, unexpected and emotionally charged situations.
---